Is there a woman in your life who is addicted to nature? Whether she likes to hike, backpack, bike, climb, or camp, this list will help you pick out a unique and thoughtful gift to help her feed her outdoor addiction.
These food wraps are an eco-friendly alternative to plastic wrap, and they make a very practical gift. They are so handy, I use them almost every day. There are several different sizes to choose from, and they also sell a vegan alternative.
Sunski sunglasses are a great value for their quality. They are lightweight and comfortable for hiking or laying on the beach. I love all of their chic, modern frame styles too.
Croakies are essential for any hiker who doesn't want their glasses popping off during a tough uphill scramble. I was wearing a pair when I accidentally slipped into Cibecue Creek and went over a few rapids, and I was amazed to find that my Sunclouds were still firmly affixed to my face when I crawled out dripping wet onto the shore. The Guatemalan style is my personal favorite because of the handwoven appearance and bright colors.
Like most women, I find that I require more warm layers than my male friends to stay comfortable when sleeping in the wilderness. I've amassed a small collection of sleeping bag liners to accommodate this need, and this is my favorite. It adds 30 degrees of warmth to my sleeping bag at only 14.8 ounces.
It also feels so cozy against the skin. In warmer months, it can be used in lieu of a sleeping bag. It's a hard working traveling companion – it can be a sheet liner when you're not quite sure about the cleanliness of your lodgings, or you can whip it out on the plane and use it as a blanket or pillow. I like to keep it in the car for emergency overnighters.
It rolls up to about the size of a 500 ml Nalgene bottle and packs away easily. This is a great, versatile gift that the outdoorsy woman in your life will wonder how she ever lived without.
While we're on the subject of versatility, there is no better multitasker in the outdoors world than the Buff. This adaptable headpiece can be worn in twelve different ways depending on the situation.
Cold weather? Cover your face with it to keep out the chill. Warm weather? Dip it in the river and wear it around your neck. Bad hair day? It makes a fantastic headband. And it comes in every conceivable color and pattern, meaning there is one out there that's perfect for the active lady on your list.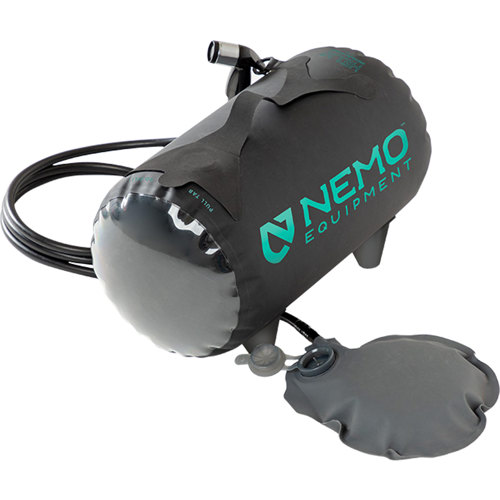 Ahh, the camp shower. One of the best gifts my dad has ever given me. This shower has a pressurized foot pump, so you don't have to worry about hanging it anywhere. It comes in either 11 L of 22 L capacity. Leave it on the hood of your car while you are hiking, and come back to a warm shower at the end of the day. Need I say more?
Epic Wipes are a perfect substitute for those situations when a solar shower is impractical. One wipe is big enough to clean your entire body. They are made of biodegradable bamboo fibers, so they're easier on the environment than baby wipes, and they smell like eucalyptus.
I discovered alpaca wool's beauty and durability when we camped at Sentinel Ranch, an alpaca farm near Bozeman, MT. The owner of the farm took us on a tour where we fed and snuggled baby alpacas. Their wool is softer and wicks moisture away better than sheep wool. Any woman would love unwrapping this homespun treasure, and you'll be supporting a small family-run farm.
Isobaa gave me a pair of these merino wool gloves to try out, and I heartily recommend them as a sincere and practical gift. They are thin yet warm, and the soft wool wicks moisture away. They can be worn alone or as a liner.
Note: Max also wrote a review of his Isobaa Merino Blend Trainers.
These are the holy grail of fleece lined tights. Putting them on feels like being embraced by a warm, silky cloud. They kept me toasty during three months of fall hiking in the Pacific Northwest, and they were a hit when I gifted them to a female friend. They're a perfect choice for the lady on your list that shivers on cold hikes.
This is a unique gift for the woman in your life who loves wildflowers. Each is handmade from a real pressed flower to represent a different birth month.
The Sirrus is a fantastic women's daypack. At 24 L, it's big enough for a full day of adventure in the wilderness or a day lugging books around campus. The fit is highly customizable for any body shape, and it comes with built in spaces for a 3 L water reservoir and a trekking pole. It also includes a rain cover. There are pockets and compartments galore for the lady that likes to keep her gear impeccably organized.
I just love this little doodad. I like to imagine a situation where everyone is frantically searching for a screwdriver, and I save the day by pulling one out of my ponytail. "Have no fear everyone! I also have an 8 mm wrench!" It would make a perfect stocking stuffer.
This is the ideal mug for the woman in your life who wants her coffee to stay hot no matter what kind of adventure the day will take her on. Yeti products are practically bulletproof, so this is a gift that will be appreciated for years to come. Pair it with a tin of loose leaf tea in her favorite flavor.
Having a hard time shopping for that athletic friend who seems to have it all? I bet she doesn't have a custom yoga mat! Have her initials embroidered on a mat in her favorite color.